Laundry reading order
Edit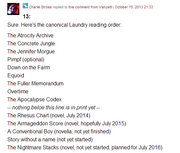 This reading order does not include the rpg game supplements, discussed at The Laundry (game). This reading order mostly corresponds to the chronological publication order.

Here's the Laundry reading order:
Nothing below this line is in print as of July 2016
See also:
Source: Charlie's Blog
Ad blocker interference detected!
Wikia is a free-to-use site that makes money from advertising. We have a modified experience for viewers using ad blockers

Wikia is not accessible if you've made further modifications. Remove the custom ad blocker rule(s) and the page will load as expected.