The Rhesus Chart is the fifth novel by Charles Stross  in his "Laundry" series of Lovecraftian spy thrillers.
Author Charles Stross opened a discussion on his blog about The Rhesus chart .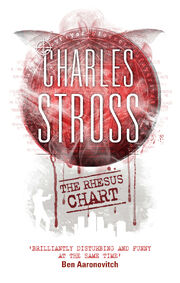 The Rhesus Chart takes place one month after the events of The Apocalypse Codex .
Of all of the supernatural horrors encountered by the Laundry, Vampires is not one of them.  Mention them, and you're sure to not be taken seriously.
When a group of investment bankers discover an arcane algorithm that gives them an aversion to sunlight and a taste for blood, somebody is trying to hide it from Her Majesty's Extra Secret Service. Bob, of course, finds himself right in the middle of it.
References

Edit
The Stand - Captain Trips
Ad blocker interference detected!
Wikia is a free-to-use site that makes money from advertising. We have a modified experience for viewers using ad blockers

Wikia is not accessible if you've made further modifications. Remove the custom ad blocker rule(s) and the page will load as expected.